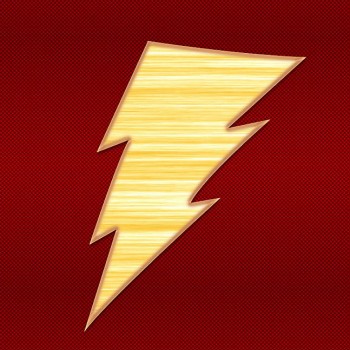 (you didn't think we'd just show the pic up top, did ya?)
Recently we dropped a slight rear 3/4 view of Zachary Levi in the full Shazam costume and today we get a little bit of a look from the front. It's still extremely difficult to tell how much of the suit is padding and how much of the suit is actual Levi muscle, which is concerning.
One of the somewhat defining characteristics of the other characters who've made it on screen in recent DC offerings, has been a healthy dose of contouring definition, worked into the design of the suit. From what we can see so far, that is not the case with the Shazam costume. It is spot on, though, as far as the look of it. I'd also assume there are a number of versions that have been made, and this may be some lesser mock-up, but as discussed on our latest podcast (available for free on the podcast tab on this site,) Fox tried to ease everyone's fears when the first pics of Apocalypse surfaced and look how that turned out. What do you think? Hit us up and let us know, and in the meantime, make sure to catch our latest on episode 76 of the podcast!